Sorrybucks drink finder
Quick Guide
(Tap to hide.)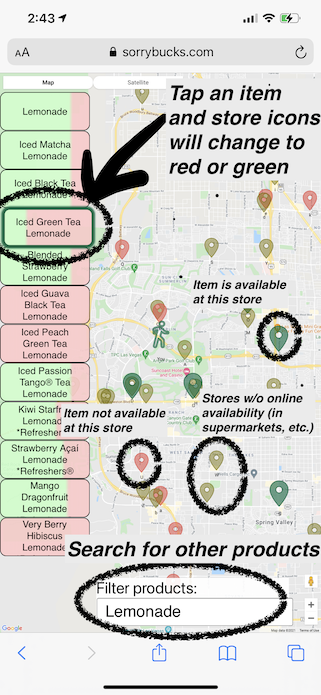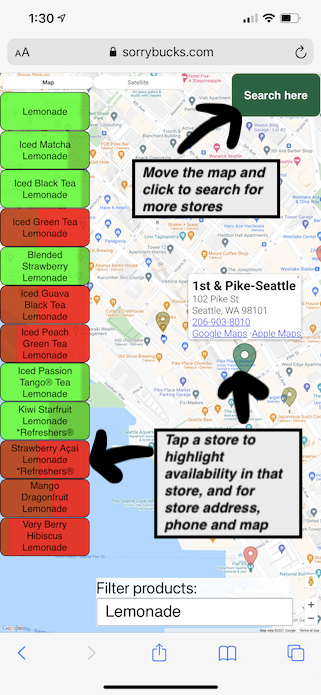 Note: Syrups, milk, and other customizations will only work if they are part of a standard drink currently on the menu. For example, "Hazelnut" won't return any items, but "Caramel" will. If you want the ability to search for customizations,
tweet your request to @sorrybucks
.
Faster than the Starbucks™ App!
This app will fetch the menus of up to 50 nearby Starbucks-owned stores and display an interactive map of stores.
On the left will be a scrollable list of items, shaded

green

or

red

, or some of both based on availability. Click on an item and the locations which don't have those items will turn

red

.
Starbucks locations will be shown on the map. The

green

markers are Starbucks locations with online menus available. The smaller

yellow-green

markers are other locations, usually inside other businesses, without online menus.
Click on a location and the item list colors will change to

bright green

or

bright red

to show what's available at that store.
Also the store address and phone number will be shown. Sometimes stores still have items that aren't available online, or the item might be available in a store without online menus, so call around if you gotta have that drink.
Just click the big button, or enter your city name or an address.
Show quick guide
Filter products:

Show quick guide
Looking for sbux stores